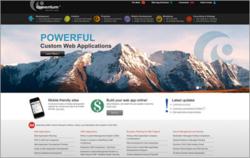 San Diego, California (PRWEB) May 31, 2012
Comentum has just released its new website on the flexible Comentum Platform, a fully customizable and practical platform that make information more engaging for users and clients.
Comentum's new site has all of the following advantages:


Comentum's site runs on a platform that is highly maintainable and customizable.
An innovative patented approach with several unique functionalities.
Resourceful content for helping businesses and entrepreneurs to make informative decisions when starting a Web Application Project.
One-of-a-kind design that strengthens Comentum's brand and online presence.
Conceptual design using powerful marketing messages for each main element of the site.
Quality of content creating an engaging environment for clients and visitors.
Comentum's site is fully supported by all browsers and platforms. It shows nicely on iPad and iPhone using JavaScript animation instead of Flash.
Unfortunately, most of today's websites are built on template based platforms with so much of the focus on using a highly bloated CMS or eCommerce software with very little focus on user experience and maintainable code.
Here are some of the issues that are common with today's websites which are built on overly hyped CMS and eCommerce platforms:
Most research and selection is on platform choices that are based on street buzz and overly hyped names such as Drupal or Magento.
Built on bloated platforms that are tedious and time-consuming to maintain and customize.
Template looks because of a recent fad of copying and duplicating another templated website.
There are so many scenarios where businesses select and integrate many useless technologies and functionalities based on every buzz word that they hear. That is not the best approach in any development project.
Most sites that are built on today's highly publicized CMS and eCommerce platforms will become defunct in about two years. This is because most of today's CMS and eCommerce platforms do not stay on a steady development structure and framework. They require constant security and version updates in order to remain secure and bug free. Some of the version updates conflict or stop the support of their templates and plug-ins, and every two to three years, they release a major upgrade that stops the support for the old development platform. So the development community has to start over, learning a new development platform.

Comentum's approach has been based on creating a stable, highly maintainable and reliable platform rather than relying on third party plug-ins, and major platform changes in order to keep the CMS and eCommerce project maintainable.
The other noticeable flaws in the other CMS and eCommerce platforms have been that when it is customizable to a certain extent to meet a client's functional requirements, they are no longer upgradable or easily supported by the community due to the complications that are created by the major customizations.
Comentum believes that complexity can be delivered in a simple and nimble solution. Comentum is not a follower, but is a leader in innovation and new ideas that streamline the delivery of CMS, eCommerce and all web applications.
Comentum provides full e-business services from Consulting to Web Application and Mobile Development, and Deployment. Below are a few of Comentum's services:
Web Application Development Services
Custom Database Software
Enterprise eCommerce
Corporate Web Design
Mobile App Development
Web Application Consulting
About Comentum