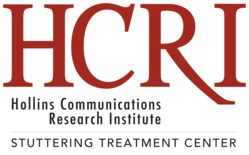 Roanoke, VA (PRWEB) June 21, 2012
Hollins Communications Research Institute (HCRI http://www.stuttering.org) is recognized in this months issue of Virginia Business magazine as one of the most innovative nonprofit organizations in the commonwealth. This recognition reaffirms a 40-year history of firsts for the Roanoke, Virginia center, which is among few organizations in the world that specialize in both research on stuttering and effective treatment of this unique disorder.
For the past 40 years, HCRIs focus on innovation has brought fluency skills to thousands who stutter around the globe. People from every state in the U.S. and 47 other countries have come to HCRI for the centers one-of-a-kind, scientifically based stuttering treatment.
According to the National Institutes of Health, an estimated 66 million people stutter, with three million living in the U.S. Impairing the ability to speak smoothly and spontaneously, the condition can limit educational and career aspirations, hinder social growth, and produce emotional scars that may last a lifetime. Through the years, traditional stuttering and speech therapies have done little to help people manage their stuttering and speak fluently over a sustained period of time.
Ronald L. Webster, Ph.D. recognized this issue and founded HCRI in 1972 to investigate stuttering and develop new, scientifically based treatment options that improve fluency outcomes. Webster and the HCRI team began by conducting extensive research and discovered that stuttering has a physical basis, dispelling long-standing notions that stuttering is caused by emotional or mental issues.
This discovery led to the definition of specific speech muscle behaviors called targets, which replace distorted muscle activities that produce stuttering. With these target definitions, HCRI research scientists developed the first comprehensive behavioral therapy for stuttering, representing a marked departure from other forms of stuttering treatment.
Now in its third generation, HCRIs 12-day behavioral stuttering treatment program works with all major stuttering types and severities, and delivers excellent results. Research shows 93 percent of HCRI clients acquire fluent speech by the end of their 12-day treatment. Follow-up studies show 70-75 percent maintain long-term fluency. The therapy dropout rate is less than one percent.
Ongoing innovation drives our work. We continually refine our therapy program and create new stuttering treatment tools, such as our clinician in your pocket iPhone app and FluencyNet home-practice system, that make fluency-skill learning easier and longer lasting, Webster said.
HCRIs contributions continue to change how stuttering is viewed and treated today. Highlights of the Institutes ongoing list of industry firsts include: