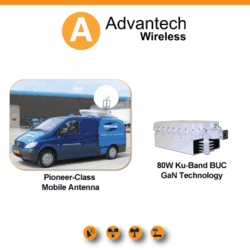 Montreal, Canada (PRWEB) July 13, 2012
Advantech Wireless, a Canadian-based manufacturer of Satellite, RF Equipment and Microwave Systems is pleased to announce the completion of its recent order exceeding $ 1M of Pioneer-Class Mobile Antennas, iPoint Controllers and light weight Ku-band BUCs for a major SNG customer in Asia.
The PIONEER Ku-band antennas are ultra-compact roof mounted satellite finding systems. The antennas encompass the drive control, positioning hardware and BUC into the aerodynamic antenna enclosure, making the system a robust standalone sub-assembly ready to install onto almost any vehicle. The versatile power-payload of the Ku-Band PIONEER Class antennas has been designed to house SSPAs with power levels up to 400W Ku-Band or Extended Ku-Band in single thread or 1:1 redundant configurations.
Harry Jiao Advantech Wireless VP Sales for Asia, states Our customer was able to meet his critical deadlines because Advantech Wireless is a one-stop shop. Rather than having to procure satellite, antenna and RF components and deal with multiple vendors, the customer made 1 phone call and shortly after, we configured and delivered the complete solution, on-time!