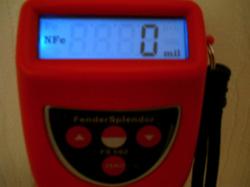 Orange Beach, AL (PRWEB) March 27, 2012
After selling thousands of paint thickness gauges to Automobile Dealers FenderSplendor President Allen Willey decided to attack the staid and conservative Coating Thickness Gauge Industry. In a recent interview Willey explained the logic.
"The Coating Thickness Gauge Industry has only a handful of mainstream manufacturers. For years the business has been conducted through resellers and at trade shows…both very expensive. To add to the problems almost every top manufacturer is in a Country with exceptionally high labor costs…England, Germany and the USA. Many actually sell the gauges from their foreign company to their USA headquarters…at a profit. By the time you buy the gauge it has multiple layers of profit included."
Willey explained that with his existing OEM Manufacturing volume he could manufacture with a much lower cost, and then sell to customers directly on the Internet. "This is the same plan we executed when we took on the Auto Paint Meter business." The website for the FenderSplendor FS 502 shows all the features and benefits of the FS 502.
I addition to the FS 502 Website, FenderSplendor